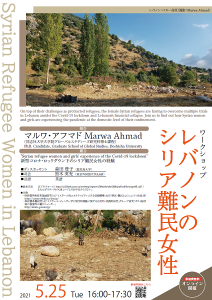 Planned Research Group A3 "Migrants, Refugees, and Community Building" will hold a workshop "Syrian Refugee Women in Lebanon" with the group research "Restorative Justice and Gender in the Post-Conflict" of Grant-in-Aid for Scientific Research (A) "Research Project on Islam and Gender: Towards a Comprehensive Discussion."
In this workshop, Marwa Ahmad, PhD. Candidate, Graduate School of Doshisha University, will give a presentation about Syrian refugee women in Lebanon based on the interview research with more than 50 people.
Presenter :
Marwa Ahmad (PhD. Candidate, Graduate School of Global Studies, Doshisha University)
Subject:
"Syrian refugee women and girls' experience of the Covid-19 lockdown"
Discussant :
Toyoko Morita (Kagoshima University)
Moderator :
Hidemitsu Kuroki (ILCAA)
Date:
Tuesday, May 25, 2021, 16:00-17:30
Message from Marwa Ahmad:
On top of their challenges as protracted refugees, the female Syrian refugees are having to overcome multiple trials in Lebanon amidst the Covid-19 lockdown and Lebanon's financial collapse.
Join us to find out how Syrian women and girls are experiencing the pandemic at the domestic level of their confinement.
Language:
English
Venue:
Online(Zoom) * Pre-registration required
Pre-registration:
https://us02web.zoom.us/meeting/register/tZMtde6vrz8vGNWg5wPozlHKvnmgntKB_q0F
Co-organizer:
Grant-in-Aid for Transformative Research Areas (A) "Connectivity and Trust-building in the Islamic Civilization Organizer" A03 "Migrants, Refugees, and Community Building" (Principal Investigator: Hidemitsu KUROKI (ILCAA); 20H05826)
Grant-in-Aid for Scientific Research (A) "Research Project on Islam and Gender: Towards a Comprehensive Discussion" (Principal Investigator: Eiji NAGASAWA (ILCAA); 20H00085) Research Group "Restorative Justice and Gender in the Post-Conflict"
Contact: Erina Ota-Tsukada (e.otatsukada[at]aa.tufs.ac.jp)